New to Color Management?

Here's a link to my FREE PDF,
"The 3 Steps to Successful Color Management"
-
Click Here ...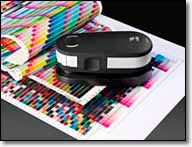 Improve the accuracy of your color managed workflow
and the quality of your print output with my
Custom Printer Profiling service.


If you've never bothered using printer profiles in Photoshop or Lightroom because you thought it was too complicated or expensive, it is easier and more affordable than you think, and the results in your print output will be dramatic!
WSYWIG (What You See Is What You Get) -

By using a Custom Printer Profile in Photoshop or Lightroom (

along

with the

other 2 steps of successful Color

Management)

, you'll achieve the best color match between your monitor and printer output.




Save money and time - Less paper and ink waste, resulting in lower costs and less hassle time.





Get the best out of your printer - Get the full range of colors that your printer is designed to produce.

"I installed the profile this morning, did a couple of tweaks, and we've been printing a variety of pics off and on all day. It's a dramatic improvement. Colors that looked dead and flat now look alive and accurate. Printed pics are much closer to what we see on our computer screen, and they look natural. Nice! Your service gets an A+ in my book. And unbelievably fast turn around on the profile no less! Good service, good product, good price... What's not to like?"

Bill Rasche
Dublin, OH
Price per profile:
$50 each
Turnaround Time (Approximate): 2 to 3 working days
Order 3 or more profiles and save 10% per profile

Applies to RGB-based Printers only
(Most "multi-ink" Photo Printers, such as Epson, Canon or HP)


"The profiles are incredible! No more having to guess what the picture is going to look like coming out of the printer. I will be adding more profiles in the future"



David DelBiondo
Old Lyme, CT


Just download the targets and order form from the link below, print them out, and send them to us. We'll then create a custom printer profile (a small 4 to 6 MB file) and email it back to you. You will need one profile for each paper/ink/printer combination that you print on.


To get started on your custom printer profile,
follow these 4 simple steps:


1) Download the ZIP file here, which includes profiling targets, PDF instructions, and order form.
2) Print the profiling targets on your printer as detailed in the instructions and fill out the order from.
3) Send the profiling targets and order form to us via "snail-mail".
4) We'll send you back your profile via email. Complete installation and usage instructions are included in the PDF.

Here's more of what my clients have to say:

"

John, I received your created profile for the Lex Jet paper last week. And wow, what a difference it makes over the manufacturer's furnished profiles - just can't thank you enough!



Charles Phillips
Tampa Bay, FL

"Just a note to thank you for the profile. It is terrific. There is nothing quite like the experience of installing a profile, going through the usual workflow, and getting exactly the desired result!"



Robert Caplan, MD
Redmond, WA
_____________________



"John, I just ran my first print using the profile and it was fantastic. The colors were spot on and the print wasn't dark like the ones I was printing before I got the profile. I'll be sending another set of targets...

"


Jim Gillock
Wimberly, TX
_____________________



"Thanks for doing the profile. Side-by-side comparison with the profile provided by Epson shows that your profile is better than the Epson profile. There is a fairly strong yellow cast in the Epson print while your print is clearly neutral."


Bill Griswold
San Diego, CA